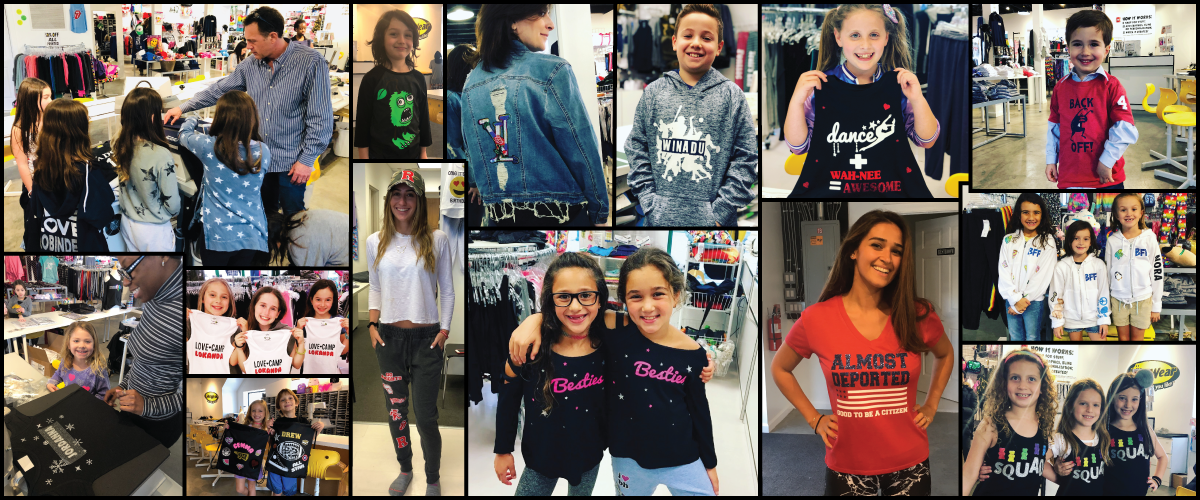 Part shopping. Part design. A whole lot of fun and like nothing you have ever experienced before!
1. Shop our store for stuff.
We stock the softest, comfiest, coolest selection of popular clothing and accessories including zip hoodies, pajamas, tanks, performance gear, overnight bags, classic t-shirts and more. Our knowledgeable staff will help you to pick out the correct size or desired item within your budget.
2. Add graphics, bling or personalization at our Custom Bar.
Step up and grab a seat at our Custom Bar where our design team will help you to add one of our 500 stock graphics, add names, camps or monograms, simply sprinkle some glitter hearts or stars, or maybe even create something totally unique with the help of our on-site graphic designer. No matter your age or what you like to do, we can help you to "wear what you like" at our Custom Bar.
3. Watch it created and take it with you!
Not only do we make everything in-house (which means no ordering or waiting for your personalized item to arrive), we literally make it in front of you - which not only satisfies the instant gratification factor of today's youth - it's also really fun to watch!
This of course describes our in-store LikeWear experience. While it is hard to replicate the same kind of "retailtainment" with online shopping, we do allow for many customization options on our web store. We also allow for the purchase of items directly from our Instagram feed - which is updated almost daily with new products and graphics.