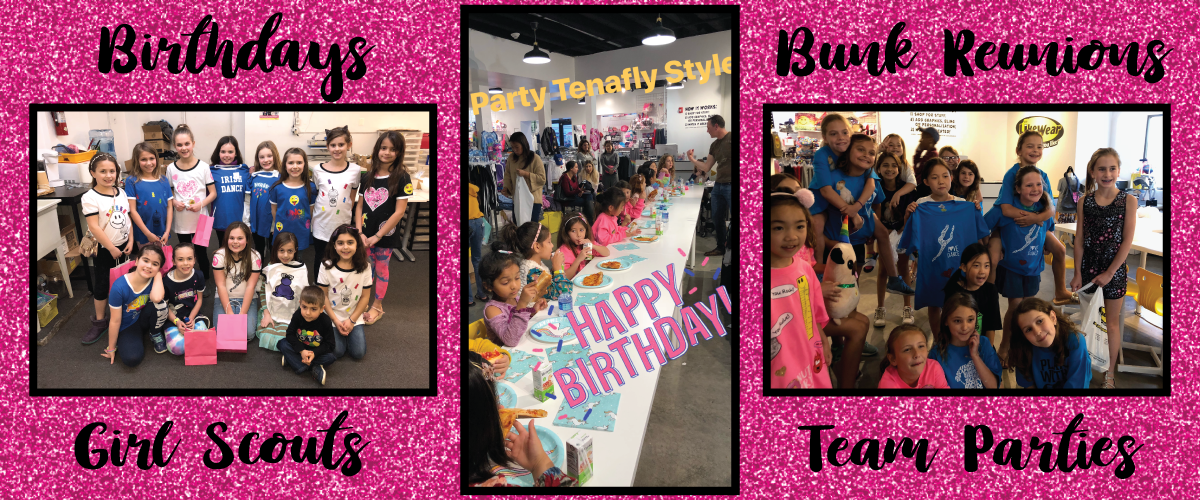 Parties at LikeWear are a lot of fun!  Celebrate your next birthday, camp/bunk reunion, girl scout event or even end-of-season team celebration with us at our Custom Bar. 
 Read on to learn more or scroll down to request pricing and more info.
How Does It Work
Upon booking, choose your party theme - in other words, the item that everyone will be decorating during your event.  Each guest will be able to choose their desired color and size (if applicable) of that item at the start of the party.  Then our friendly and creative staff will guide everyone to select among our huge array of graphics, bling designs and lettering options.  Whether they choose sports, camp, hobbies, animals or junk food, there is something for everyone! The best part? Every guest leaves with their own unique and personalized LikeWear creation.

What's Included
Party pricing starts with a base for the first 8 kids and then a per person charge above that, depending on the item chosen to be designed.  Party pricing covers the apparel the kids design as well as tons of images, a custom name and even distressing if desired.

We don't provide food but we will help you serve and clean up whatever you bring.  And, we have deals with local pizzerias for discounts. We have a private party room for food and cake as well as a separate Custom Bar for use during the party time.  

Timing
Parties typically last 90 minutes - 2 hours depending on the number of guests. Maximum of 35 kids.

Next Steps
Call us or submit the form below to book your next event or to request pricing and/or additional information. We take a $100 deposit to hold your date, balance due on day of party.