Our story is your classic boy meets girl, girl has third baby and is longing for something more than just "mommy-hood", boy goes away on a business trip and while he's gone, girl starts her own custom clothing and accessory business.  Girl's "hobby" business grows, boy pitches and secures several big name brands to be licensed to girl for her hip kids clothing line, boy leaves day job to work with girl and together they create LikeWear – a fun, cool, custom kids' clothing and accessory line that features one of the largest original collections of officially licensed candy graphics and original designs that are unique twists on popular culture and trends.  In other words, to tap right into the heart and soul of what kids really like and want. LikeWear's mission is to help people of all ages to "wear what they like"! That's the short version of the story. I rarely tell a short version of anything so here's the rest…
LikeWear started as a new kind of direct sales company - the first and only direct sales company to carry licensed apparel.  Boy uses his marketing skills to create catalogs and order forms. He always longed to be a graphic designer so he teaches himself Photoshop and Illustrator and gets busy – really busy creating original designs.  Girl makes use of her cold calling broker past to amass more than 100 representatives in 15 states. Yeah, she got really busy too. These reps sell the LikeWear line at the local level. Then LikeWear gets noticed and starts to get contacted by boutique shops, destination retailers and even a hotel chain – all who want to purchase their line wholesale.
So then the LikeWear line is being sold wholesale AND via direct sales – sounds fabulous, right?  Not so much. The direct sellers didn't want to compete with the stores and the stores didn't like the reps selling directly to "their" customers.  What's a girl to do? She needed to make a decision. A tough decision. After much thought with boy, debate with herself and trepidation over letting go of the company's original reason-for-being, the wholesale side won.  So long direct sales and hello to exclusively being sold through stores.
As our production volume grew, so did the chaos in our house.  Oh, have I not mentioned that we were running this business – manufacturing and all – out of our home?  Well we were. And well, chaos is what it was. Warehouse in our basement, manufacturing in our dining room, phone sales from the kitchen and shipping from the garage.  We did a few sample sales from the house and surprisingly they were wildly popular in town. I'm talking epic-tell-all-your-friends-get-there-early kinda EVENTS! People came to pick an item, choose a graphic and watch it made right in front of them.  And just like that – BOOM! LikeWear's Custom Bar was born.
After five years of running all aspects of LikeWear from our house, in 2012 we opened a retail store featuring our Custom Bar at 142 South Livingston Avenue in our hometown of Livingston, New Jersey.  A year after that, we expanded and broke through to the adjacent store. In 2017 we opened a second store in Tenafly, New Jersey and closed the wholesale division to dedicate ourselves to what we do and enjoy best – working directly with our customers.  Yeah, this girl and her boy have come a long way, but as far as our LikeWear story goes… this is only the beginning.
I'm "girl", otherwise known as Lisa Gold and "boy" is my husband Ken.  LikeWear really is a marriage of our ideas, imaginations, skill sets and even our first names.  (A well-kept secret, well until now, is the L-I in the name LikeWear comes from Lisa, and the K-E from Ken!)  Just a boy and a girl and their 3 kids and 2 doodles working hard and striving to keep living the dream.
"Living the dream is simply a form of living out your passion, of making that passion gradually, through persistence and effort, a central part of your life."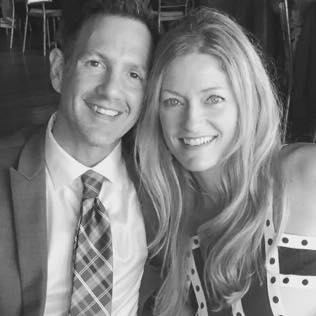 Lisa & Ken Gold